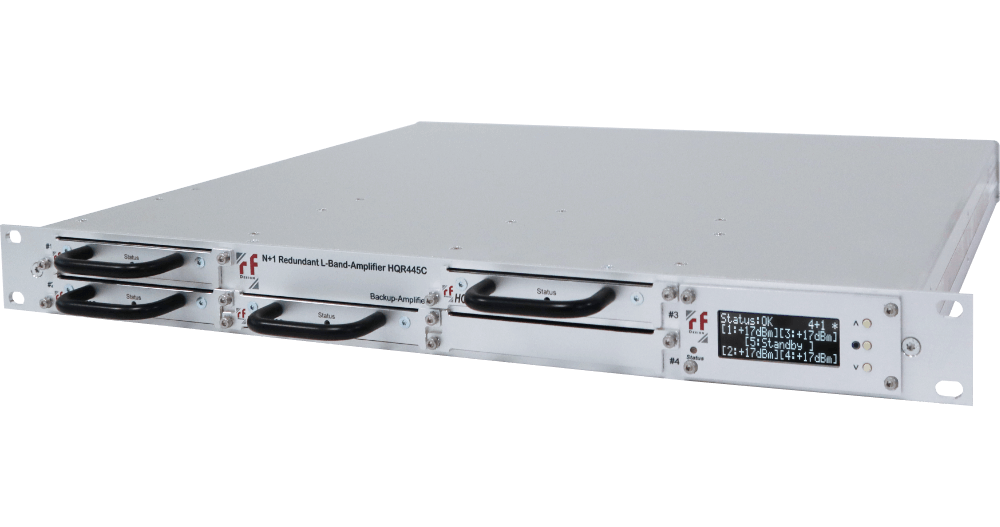 HQR445C N+1
redundant Line Amplifier
The HQR445C is a compact, flexible and modular 4+1 redundant L-Band line amplifier system built into a 1RU/19" rackmount chassis. The variable gain adjustment ranges from 0 to 40dB (1dB steps) while it also supports slope equalization. The HQR445C chassis holds up to five high dynamic HQA45MI amplifier modules (950 – 2150MHz or 850 – 2700MHz) field expandable from 1+1 to max. 4+1.
FiberLink2plus
Dual Channel RF-over-Fiber System
The FiberLink2plus incorporates 1RU/19" and 3RU/19" rackmount chassis with capacity for maximum 4 or 16 dual optical TX and/or RX modules and the corresponding optical TX and RX modules available for various RF frequency ranges. It allows distribution of up to 32 RF signals over optical fiber and besides its modular and high-density design, it also offers premium quality and many beneficial features.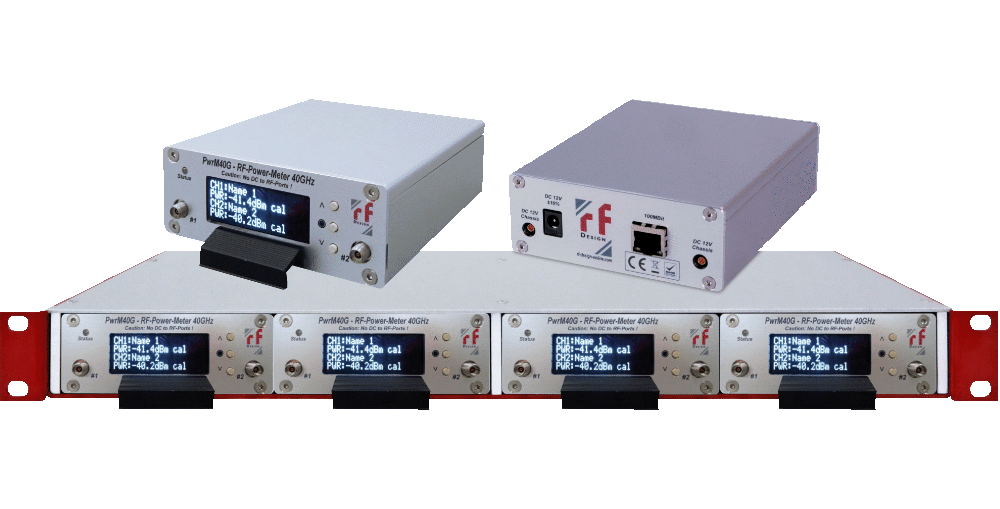 PwrM40G
Dual RF Power Meter
The PwrM40G represents broadband power meter device perfectly suited to measure RF in C, KU and KA Band. The PwrM40G is available as a compact handheld unit or a modular type 1RU/19" rack mount chassis that can hold up to 4 power meter modules. The PwrM40G is a perfect solution for broadband monitoring applications, capable for simultaneous monitoring of of 2 to 8 RF signals within a …
Some of our EcoLine active L-Band splitters ready for operation at a leading global media services company in the Netherlands. A big THANK YOU goes to our sales partner Toner Cable ...
Some RLA270A 1+1 redundant L-band Line Amplifieres during the burn-in test ready to be shipped to Intelsat for deployment at several of their ground stations around the globe...
Satellite Innovation — RF-DESIGN to spotlight their RF family of products
Don´t miss to see our innovative dual RF Power Meters live at our booth and learn how these devices can support your L-band, C-band, Ku-band and Ka-band signal monitoring needs ...
RF-Design ́s Switch Matrix, RF-over-Fiber, Line Amplifier and RF Monitoring Solutions. You can find the article on page 24.
Another highlight at IBC is our innovative N+1 redundant Line amplifier HQR445C. Visit our booth and learn more about this ...
Technology leading RFoverFiber systems at IBC.
We are exited and look forward to meeting you next month at IBC - International Broadcasting Convention in #Amsterdam.
Read the WTA Member News about our 40GHz Dual RF Power Meter.